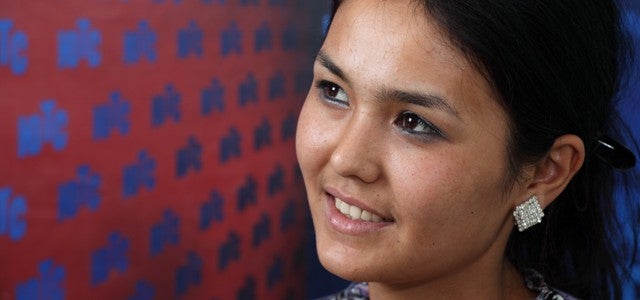 I am Aktilek. I am 21 years old. I live in the city of Kyzyl Kia in the south of Kyrgyzstan. I am a young mother, I have two small sons, the senior is 4 years old, the younger is 2. I have been married for five years. I live in the house of my husband where there are a lot of people, they are my husband's parents, his brothers, their wives and children. To be married was in spite of my will. Kyrgyz people have a custom – bride kidnapping, and I happened to be a girl who was forced to live with a man and to give birth to children. Before it had happened, and it happened when I was 16 years old, I had had my life plans, which included studying at university and good work. And as soon as God made me attractive, I thought of a career of a television anchorwoman, a television journalist . At the age of 16, when I was still a schoolgirl the desire to show my face, my figure brought me to a local beauty contest "Ms. ayil akmottuu" I won the contest, but after competition I was kidnapped and closed in the house of my husband. I admit, I was the only girl at my school who had been kidnapped. I was upset greatly and didn't know what would happen to me in the future and what might happen to my plans. To tell the truth, before that case, there had been only one difficult period when it was necessary to overcome difficult situation, and when I had to believe in myself and to believe my close people, and to meet their support. In 1999 when I was 10 years old, and when I lived with my grandmother and my grandfather on Jailoo in Batken's mountains, in Zardaly – fighters, Mujahideens came to our small village. They took away from us food, took away cows and sheep. I don't remember, the day, when we left Zardala. We had to go to Batken, and it took us a long time, the road was difficult to go, somewhere it was narrow and it was next to a mountain abyss, somewhere it was stony. I remember being very thirsty. I remember the woman who gave birth to a kid on the way. I remember my grandfather taking me with his hands to the other bank of the fast river. Later on I wrote a story about those days, it was called – "Village Smell". When I was 16 years old, I showed the story to some people, and they told me, that I should keep on writing and suggested publishing the story "Village Smell" in the Kyzylkiya newspaper. I am glad that some parts from my story were published in two local newspapers. I hope very much that when I earn some money, I will publish this story and other ones.
I am very grateful to my parents, they are music teachers. My mother teaches kids music in a kindergarten, she plays two instruments – the piano and the komus. My father teaches music at a local school. My parents did their best for me to be successfully graduated from school, I can speak well two languages – Russian and Kyrgyz. My favorite subjects at school were literature and history. When I was studying at school I dreamed of becoming a journalist. My favorite writer is Aitmatov. I like to re-read his novel "A day might be longer, than a century".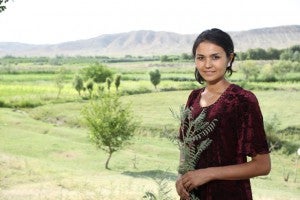 It seems to me, that a lot of time has passed since my marriage. It seems, I also got used to a new role, I love the children very much, but, to tell the truth I feel bitterness and emptiness. It is a pity that after my marriage a wall has appeared between me and my grandfather. My grandfather didn't accept my marriage. For him my marriage is a tragedy. My grandfather didn't kidnap my grandmother. And my parents got married because of love. It turns out that I happened to be the first in our family who was kidnapped. But, despite of all difficulties, I don't want to refuse from my plans and desires. That is why in five years after my marriage I became a first year student in a university. Though many of my schoolmates have already finished their training at universities by 21 years, I am not upset. I am looking forward to the first of September when the training at the university begins. I want to improve my literary talent further though, I have to confess, that I am glad that at the same time I manage to be an obedient and careful wife and mother. But to tell the truth my husband's family do not like my intention to study at the university, and in September, when university begins, I think there will be a new stream of reproaches and misunderstandings from them.
But, in spite of my presentiments, I do not regret making this step. When I have a University degree, I will be able to give my children much more, I will be able to prevent them from the mistakes, which are similar to mine and I will be able to make them happy. And I am grateful to my husband who, as well as I, wishes that our children would be educated, cultural and good people. It is easy to understand him. He spent all his childhood in a field or on a farm. He didn't finish school, because it was necessary for him to work and to help his parents. That is why he supports my desire to study and to get an education. He told me once that he wants me to become even better, more educated, and more successful.
He also knew about my childhood dream to become a journalist. And when television appeared in Kyzyl Kia he took me to the studio. I have been working at "YuTS" television for three month (The southern television network). I read news, I conduct a ten-minutes program "Maalymat Bulagy". As soon as in our team there aren't enough people, it is necessary to learn some television skills, for example, how to dub the news. But it is pleasant to me. I am sure, that all these things I will use in my future. Work on local television doesn't allow to relax and stuck in house issues though in my husband's family the attitude to my success is alerted. Daughters-in-law think, that the woman has to stay at home, give birth to children and care about the husband and nothing else. From their point of view I should not have any personal interests, there shouldn't be a right to an inner world, to own experiences. But after all it isn't correct! The role of the woman consists not only of giving birth and education to children. I think that in a family both parents have to work, wives, and husbands. And if parents are educated, their children will be also educated. Therefore I will try to study further to be a model for the sons. I will also try to be the best, to be the most successful mother.
For now I read them fairy tales for the night. In these fairy tales there is no place for the loneliness and the evil. Or rather, they are sure to suffer a defeat from the kind forces bearing love and light. Most of all my children love a fairy tale about a flying lamb. These fairy tales reflect my inner world. Through them I try to tell my children about my feelings, my understanding of life, people, my values, such as friendship, charity, diligence. Also I try to inform my children that each person has the right to life, and that success comes only to the purposeful people.
My approach to life will help me to plant young sprouts of something light, pure and blossoming, what I could not do when I was 16 years old. And I believe, that my enthusiasm, though awkward and not professional, but will be like blossoming apricot tree, growing on the waste ground. And I believe that I will succeed in everything I am going to do. I will become a successful and an educated person. Despite anything.