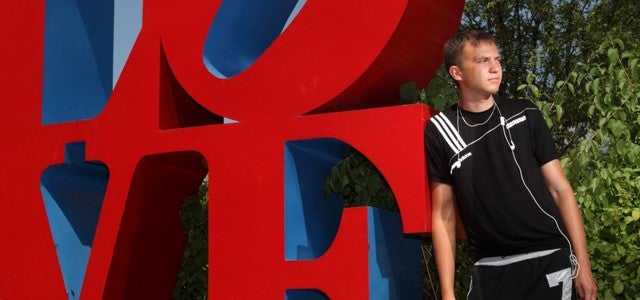 My name is Alexander, I am 22 years old. Today I work in a public fund "Gender-vector" as an expert of before test consultation and as a yard cleaner in a house management office, I have a secondary education. When I was 5 I lost my parents. My sister and me (she is 10 years older than me) were taken by my uncle to live with him. But neither my sister, nor my uncle, told me about the cause of death of my parents. My sister got married and moved to her husband. Till last month I lived with my uncle. To tell the truth, we lived in the same house, but not together, each of us has his own life, practically didn't even talk with each other. Today I met a woman out of pity for her I live with her, she is 13 years older, than me and has two teenage children … I am a person who thinks more about the present, than about the future, or the past. Together with her we are planning to create a family, next year we are going to register our marriage. I understand, that I want children very much I don't know what might happen tomorrow. I am a gay. And my girlfriend knows that I am a gay. My uncle does not know about it. I think, he will never understand …
I understood about my sexual orientation at the age of 13-14 years. I wasn't attracted by girls. I admired boys; but nobody understood. I had the first sexual experience with a man at the age of 14 years. It was a 20 year old guy and it was a banal sex, without any feelings and continuation of the relations. After that I was thinking for a long time, whether it was right or wrong doing, what might happen further and how to live with it. But then I understood that I could not be changed. I was born like this. After the first case there were also others, but the true love came to me only 2 years later. Unfortunately, these relations were broken off. My partner had to cope at the same time with his work, his studying and his house. As a result I was left in the basket. But my feelings still remained the same. And I am convinced that I feel very nice with a man.
You know, my destiny is not the worst one. Because I can still declare openly that I am a homosexual. The matter is that there are such guys, men who have families, children. Generally they are Asians. And they are gays. But because of the traditions, mentality, customs, they will never declare openly about their sexual orientation. Their relatives and families are sure never to understand them. I am sorry for them. Can you imagine a person who lives his life according someone else's rules? How is it possible to hate a person, only because the nature has created him in such a way? You know that only in Kara-Balta, where the population is slightly more than 90 thousand people, there are 700-800 male gays. And in the country there are more than 8 thousand gays. According to statistics, the quantity is growing from year to year. Are you also sure, that all of them have to be shot down? I don't think that in our society there are no tolerant people, and that there is not a single person who is capable to understand another one.
There is another interesting fact – many gays don't know that in Kyrgyzstan homosexuality isn't forbidden officially. This article was excluded from the law in 1991. But law enforcement agencies use the lack of people's knowledge and do whatever they want, interfere in the private life, humiliate, disclose others' secrets. And what do officials do? Among them there is a lot of those, who order young men from guys souteneurs and pay for the contacts big money. I wouldn't like them to say from a high tribune that being a gay is awful and all of them should be exterminated. I also have such offers, but I categorically against such methods of earning money. I won't tell that I am rich, but I against using sexual orientation for enrichment. I know the guys who have made a fortune, doing this work, they have bought apartments, cars, they have money and everything, which one might only wish for. But all these things happen in the city. As for Kara-Balta, this city is not for the youth. It is a pity, to watch young people sitting in a park on a bench and drinking beer. This is the only place and occupation which can be afforded in this city. It is better to live in big cities, but it is also expensive. But here the infrastructure is developed, there are a lot of points for obtaining information. Life is better, but more expensive, may be people are different…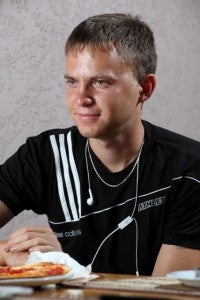 But I work in a public fund which is in Kara-Balta, and I am very grateful to the friend who brought me here. Here I understood that I am normal, I understood that I can be useful to people, I can receive information, warn men about risks, I feel that I am capable to change the attitude of people towards themselves, to share knowledge and the relation to life. I don't hide my sexual orientation. Also I agreed to tell about myself only because of a simple reason that I want to be useful to someone, I want to help people to understand themselves, and not be afraid of their nature and revealing themselves. I want them to receive maximum of pleasure from life and not shrink away with horror. At the beginning it was very difficult to me, I was scared not to be understood, was concerned about my life unless I got into the public fund. It is sad that it is difficult to convince senior generation. For this reason I can't talk with my uncle about myself. I am afraid that it will affect his decision about his will, concerning his apartment. In this case I might find myself on the street and without money. But I am happy with another information that the youth perceives people with nonconventional orientation with understanding. They understand that everyone has the right to live with whom and where he, or she wants. It would be desirable that the number of such people grew in our society …